The stage is set. The Cloud Native Computing Foundation (CNCF) prepares to kick off its flagship event KubeCon + CloudNativeCon NA 2023 in the vibrant city of Chicago, Illinois from November 6 to 9, 2023. WasmEdge maintainers and members of the community will be in attendance, speaking, exhibiting, and networking with other attendees. Come join us at KubeCon this year!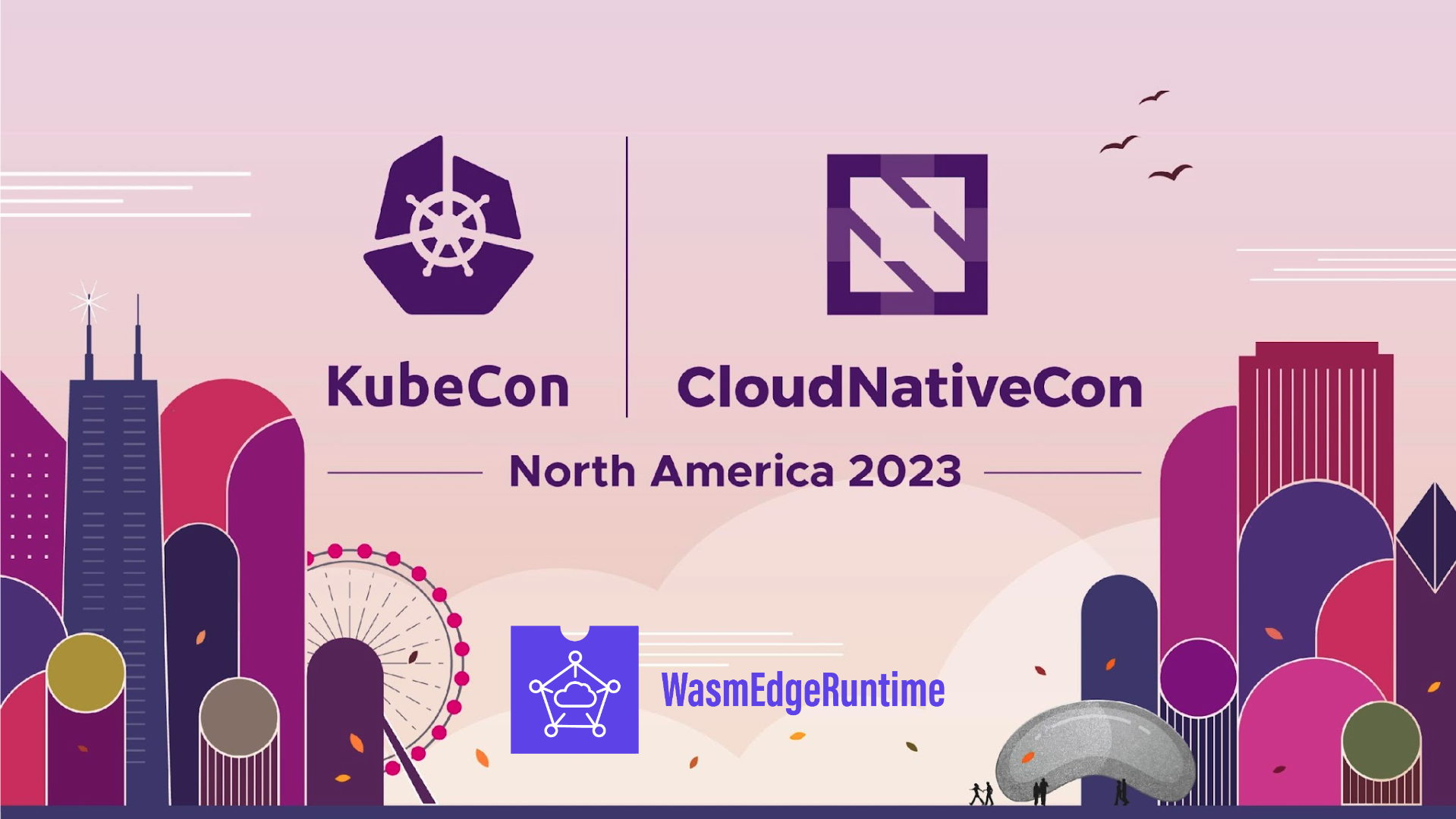 Talks
Cloud Native Wasm Day (6th, Nov)
Cloud Native Wasm Day, a pre-event to KubeCon NA, is a gathering where Wasm enthusiasts will share the latest technical updates and user stories about server-side WebAssembly. The Cloud Native Wasm Day is a full-day event on 6th Nov at W180 room.
The WasmEdge community will give talks about embedded wasm functions, debugging Wasm, and running LLM with WasmEdge.
Don't miss out on this opportunity to stay abreast of the latest developments in Wasm!
KubeCon (9th, Nov)
Following the Cloud Native Wasm pre-event, we move on to the main events: KubeCon and CloudNativeCon.
Join Michael Yuan from WasmEdge and Yusheng Zheng from eunomia-ebpf as they delve into 'eBPF + Wasm: Lightweight Observability on Steroids' in Room W181. This compelling talk promises to explore the potential when eBPF intersects with WebAssembly. How will these two promising technologies in the Cloud-native area complement and enhance each other?
Find out by joining us from 2:00pm - 2:35pm on November 9th.
Special KubeCon Edition: WasmEdge Community Meeting (6th, Nov)
The WasmEdge community traditionally holds a meeting on the first Tuesday of each month to discuss community updates. But this November, we're taking our meetup to KubeCon NA 2023! Our special WasmEdge community meeting will be held as a Project Working Session on November 6th (Monday), from 11 AM-12 PM.
We're thrilled to discuss our newly published live project developed in partnership with Manning Publications, all about developing microservices using Rust and WebAssembly. This book is a must-read for those interested in creating lightweight, highly performant microservices using Rust and Wasm. Don't miss out!
Additionally, WasmEdge 0.13.5 launch is expected to take place before KubeCon NA 2023. Let's dive into the WasmEdge 0.13.5 together. Just a hint, you will be able to use WasmEdge to run lightweight and portable LLM inference on CUDA!
You are also welcome to propose your own topics for this meeting as well.
To affirm your participation in this in-person meeting, please fill out this form. We'll promptly send out an email invitation. Do note, space is limited, and it's a first-come, first-served policy. We're looking forward to seeing you at KubeCon NA!
Visit us at WasmEdge booth (7th - 9th, Nov)
The WasmEdge Runtime project has a booth in the KubeCon Project Pavilion as usual. The WasmEdge maintainers will be on-site to demonstrate how you can run LLM inference on your personal computer and GPU chip using the same Wasm file. As an added feature, we'll show how to utilize container tools to manage these LLM inference applications. Rust + Wasm for LLM inference provides a way to achieve portability across heterogeneous AI hardware and platforms without sacrificing performance.
We welcome you to visit our booth (#F40) to gain insights into cloud-native Wasm AI inference and also stand a chance to win exciting WasmEdge SWAGs.
For additional discussions and project updates, we invite you to join our Discord server. We look forward to seeing you at KubeCon!